In a recent article, we covered what types of businesses need to be aware of food manager certification rules in Minnesota. If you have opened a new food business or read our blog and discovered that you need to have an employee certified, we're ready to let you know how to go about the process of being compliant with state regulations.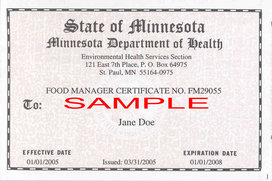 How to Become Food Safety Certified
You first need to decide which employee to designate as your food manager. You should select your kitchen manager, head chef or floor manager. Whoever you choose, they must be a full-time employee who controls food preparation at your outlet.
You must next select which certification your manager will obtain. The state of Minnesota accepts the following courses:
ServSafe
Certified Food Safety Manager
Certified Professional Food Manager
Learn2Serve Food Protection Manager
Before signing up for any classes or certification exams, check with the owner of your business to see if they require specific training courses. Many national and regional chains restrict which certifications they like their managers to obtain.
Many of these classes and food safety certification exams can be taken online or in instructor-led sessions. While online classes offer convenience, in-person training gives students the opportunity to engage with an instructor and have questions answered right away.
Finally, apply for the correct paperwork with the health department. It is not enough to pass an online food manager certificate exam. You must apply for certification with the state. The Minnesota Department of Health provides access to these applications online.
Once you receive your certification from the proper authorities, you must post it in a visible and easily accessible location.
Whether you are a first time manager or you need to renew your food manager certification, we can help provide the proper class for any jurisdiction in Minnesota. If you have any questions about certification that we did not cover or would like to know how to become food safety certified, please visit our homepage for more information.